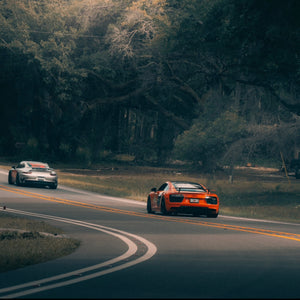 Drive Florida's FIRST EVER Mountain Run Presented By Presidential Detailing
5 SPOTS LEFT!!!
-
October 13-16
4 Days | 3 Nights
UPDATE: 8AM DEPARTURE FROM GAINESVILLE ON FRIDAY 10/13. PLEASE PLAN ACCORDINGLY
-
Get ready for four days of exhilarating driving while experiencing some of the best back roads in the Southeast. Amazing dinners and stops along the way!
-
Day 1 - Gainesville to Atlanta
Starting in Gainesville, FL we will rally out to the Porsche Experience Center in Atlanta, GA. Ending off the day with a rooftop party overlooking the PEC Racetrack.
-
Day 2 - Atlanta to Road Atlanta to Helen
On the second day, we head to Road Atlanta for the 10-Hour Petit Le Mans IMSA Sportscar Race. We'll finish the night out in Helen, GA.
-
Day 3 - Helen to Blue Ridge to Tail of the Dragon to Cherokee
The third day takes us to Blue Ridge for backroads and lunch, then to the infamous Tail of the Dragon in the Smokey Mountains. After a full day of backroads, we will end off the third day at Harrah's Casino Resort in Cherokee, NC. We'll spend the night around the casino with amazing food and drinks.
-
Day 4 - Cherokee back to Florida
On the last day, we start our trek back to Florida after driving a few more mountain roads along the way, this day takes us toward the Cherohala Skyway, one of the best roads in the country!
-
Included with ticket: (price is per car, passenger included)
1500+ miles of driving adventure including Blue Ridge, Smokey Mountains, Tail of the Dragon, Foothills Parkway, Cherohala Skyway and more!
Rally Swag Bag
Rally Vehicle Decal Package
Two Way Radios for each car
4 Days, 3 Night of Hotels (1 Night in Atlanta, Helen, and Cherokee)
Saturday Admission and Parking at Road Atlanta
Porsche Experience Center Museum Tour
Rally Media Coverage
A Weekend Of Fun
We look forward to this awesome weekend full of rally adventure. Do not hesitate to reach out if you have any questions!
-
*Optional Hotel Accommodations in Gainesville Thursday Night where we will have one of our meet and greets. Starting location on Friday TBA!
-
Current Car List:
Audi R8
Audi R8
BMW 135i
BMW 335i
BMW M3
BMW M340i
BMW M5
Corvette C6 Z06
Corvette C7 Grand Sport
Corvette C7 Z06
Corvette C8 Z51
Corvette C8 Z51
Dodge Charger Superbee
European Exotic Center TBD
Honda Civic Type R
Honda Civic Type R
Honda NSX
Jaguar F-Pace SVR
Lamborghini Huracan STO
McLaren 570S
McLaren 570S
Porsche 911
Porsche 911 GT3RS
Porsche 911 Turbo S
Porsche 911 Turbo S
Porsche 911 Turbo S
Porsche GT3RS
VW GTI
-----------------------
REFUND POLICY: No refunds. Event is rain or shine. Registration is transferable to another team/individual. If you have any questions, please let us know!